Configure existing email account in Outlook to send and receive email through VPOP.

If you have not sent mail through VPOP in the past please contact us first so we can enable your account to use us for SMTP


1. Open Outlook.
2. From the

tools

menu, choose

E-mail Accounts.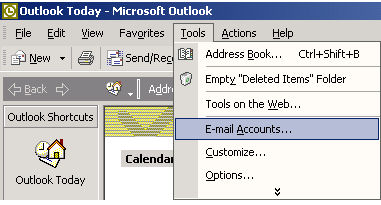 3. Click the View or change existing e-mail accounts button in the E-mail area.
4. Click the Next button.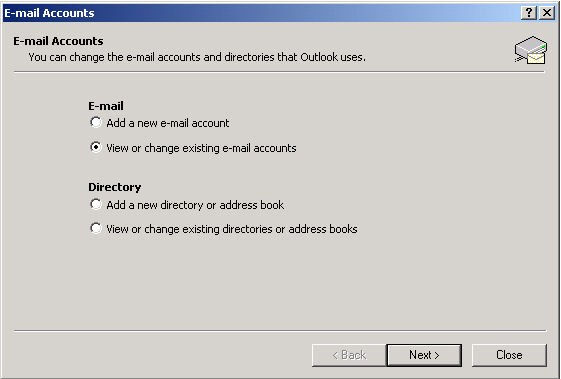 5. Choose the email account you want to set up to send through VPOP.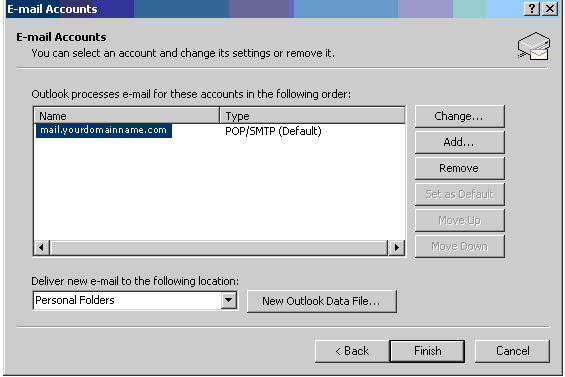 6. Click the Change button.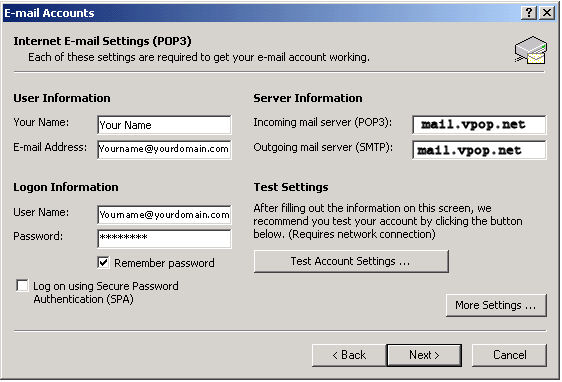 7.

The

Incoming mail server (POP3)

and the

Outgoing mail server (SMTP)

fields should be set to

mail.vpop.net

.
The

User Name

must be set to your full email address (eg. johnsmith@yourdomain.com)
8. Click on the

More Settings

button.
9. Click on the Outgoing Server tab.




10. Check the box next to My outgoing server (SMTP) requires authentication.
11. Select Use same settings as my incoming mail server.
12. Click on the

Advanced

tab.




13. Make sure the

Incoming Server

port is set to

110.


14. Check off the box that says

This server requires an encrypted connection (SSL).


15. Change the

Outgoing Server

port to

465.


16. Click

OK

. Click

Next.


17. Click the

Finish

button.

That should do it. You should now be able to send and receive mail through VPOP in Outlook.